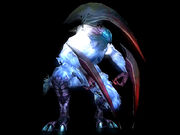 Praus its a monster Lv 32, lives in Parca Temple. Their resistance is ice.
Section heading
Edit
He enters on a quest: Defending The Eastern Shield.
Section heading
Edit
Praus
pierces enemies' skin by opening and rotating two arms that are sharply trimmed. It rotates arms by rolling the body with the head. At the first glance, it seems innocent. But, since the whole body is a weapon.
Praus
is not an easy creature of the lower bound.