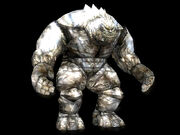 Rock Pressure its a monster Lv 29 and leaves in the Parca Temple. They are in the same zone with Parasite. Their resistance is ice.
Section heading
Edit
He enters on a quest: Passionate Researcher I.
Section heading
Edit
Grand Fall put strength of the lower bound into what did not breath. Stones rolling on the ground became large golems and threat any living creatures as if it represents the polluted and dying Trieste Continent.