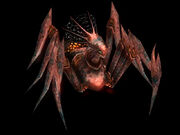 She is a monster lvl 28, that it leaves in Deneb.
Section heading
Edit
She is the mother of the Spider. Spider Queen leaves in the northeast of the city.
Section heading
Edit
When Grand Fall arose, eggs of poisonous spiders absorbed power of the lower bound and became huge. Among them, Spider Queen is a huge Queen of spiders with 8 legs and hook-like hands advanced along with tentacles at the front.